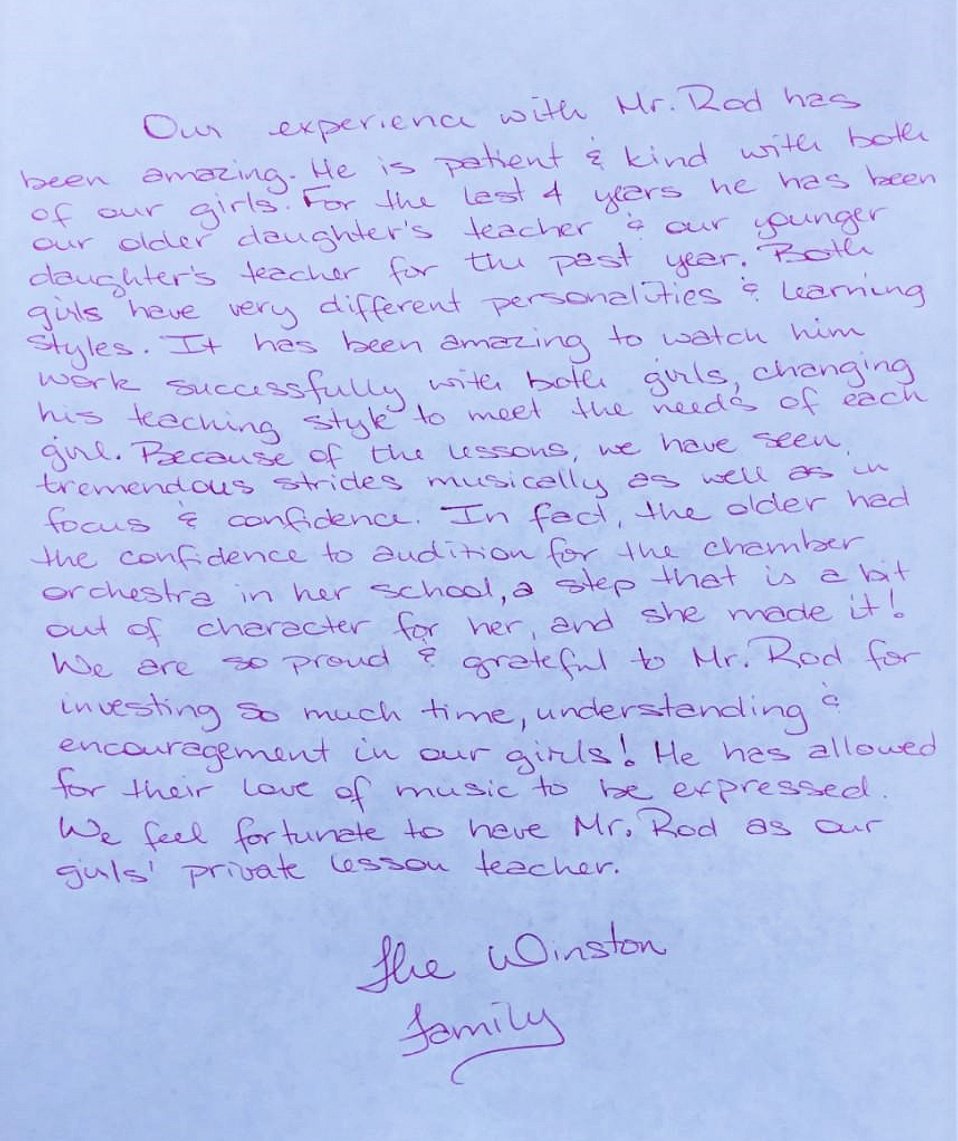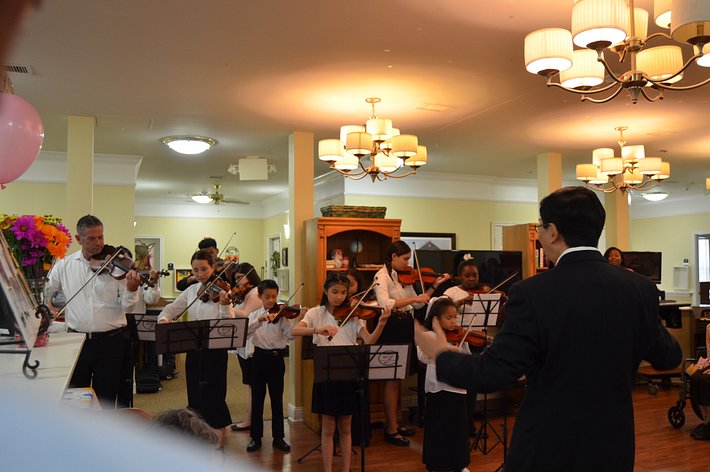 "As a high school teacher, I know that just because a person is knowledgeable about a subject, teaching requires more than just knowledge. Although I have only been playing the violin for a few months Mr. Rodsuwan has successfully provided me with the basic skills and knowledge needed to advance as a violinist. More importantly, he has encouraged me to continue following a dream regardless of the obstacles." -Caroline Cunningham
" As an adult student with prior experience with music teachers, I consider Mr. Rodsuwan to be the best I have ever worked with. Progress is fast and teaching time is used efficiently to get the student where he/she desires. From custom made musical pieces to working on small details to polish ones playing, Mr. Rodsuwan is a high level professional who can do it all. I began working with Mr. Rodsuwan as a violinist with a few years of experience, but within just two months of being his student my playing skills, knowledge of my instrument, and comprehension of musical theory have excelled significantly. Mr. Rodsuwanis not only a teacher, but also a man with a strong passion to bestow all his knowledge with incredible energy and charisma; he is simply so much fun and pleasant to work with. I recommend him to all those who are on their journey to becoming great musicians, as well as those commencing their journey." -Sonia Parada
"We are very grateful that we found Mr. Rodsuwan when our daughter was 4 years old and we realized she had a musical ability that we wanted to be nurtured. Our primary goal then was for her to have a life full of a love for music. Mr. Rodsuwan fulfilled all of this in his typical exemplary fashion. Neeta, our daughter, loves to play violin and eagerly looks forward to coming for her weekly classes for the last 4 years. She has made amazing progress. Thanks to Mr. Rodsuwan's exceptional skill to engage children of all ages. He is not only an exceptional musician, violinist but an incredible teacher who is the embodiment of patience. The blossoming of our daughter's skill in violin an the joy we see in her, makes the 2 hours of driving back and forth more than worthwhile. Thank you from the bottom of our hearts, Mr. Rodsuwan" ~Vijay Yechoor, M.D. and Mousumi Moulik- Yechoor M.D.
Violin Lessons Houston, The Woodlands, Spring, Cypress
"Mr. Rodsuwan works so well with the kids. His patient and makes every lesson exciting and fulfilling. To the kids, lessons are fun. They look forward to coming every week. I enjoy watching their passion for the violin, and making music grow with every lesson and every time they practice. After the recital, Alex proclaimed it was the best day of his life!"- David Reed
"When "Alex Trystad (our son), who took lessons with you. He graduated with honors from Baylor in 2010, receiving a B.M. in viola performance. After that, he went to Eastman School of Music in Rochester, NY, where he completed his M.A. in viola performance. Now is a D.M.A. candidate, is concurrently working on another Master's degree in Theory Pedagogy, and is adjunct faculty in the music department at a local college where he teaches string methods, serves as the viola instructor, and coaches a chamber group. You were a part of his long journey in music"
- Marc Trystad
"I am so happy that my daughter was chosen to be a concertmaster of the Region IX Junior High Philharmonic Orchestra 2019-20. She began her violin study with Mr. Rodsuwan 3 years ago and currently studying with Mr. Hammons at Allegro Violin School. The best violin school!" Nga Dinh
"Mr Rodsuwan is very committed music teacher and his approach is very systematic. When we visited for the trial class he took good amount of time to understand our need and asked both my kids to play the Violin and Piano and gave a appropriate feedback . Within 30 min he provided lot of valuable input on improvements and put the road map to reach from Symphony level to Chamber level.
Our session starts at morning 7:45 AM on Saturdays and he is committed to reach on time and while teaching my 9 year old he makes extra effort to make the class more fun ,cheerful and make her understand the steps , technique mood and rhythm of the songs.

Also , he provides lot of good music books and material .He provides feedback on how to practice at home .He gives opportunity for students to perform in recitals which builds the students confidence to perform in front of audiences.

I strongly recommend him if you are looking for someone who is committed and you want to see your children learn and love music.

Thanks Mr Rodsuwan for commitment to teach my children wonderful music" Prat Bhat
"I was very fortunate to find this place. Mr. Rodsuwan is truly a blessing. My daughter wasn't confident in her playing and was wanting to quit the cello until she started taking lessons. Mr. Kim is amazing instructor. Their prices are reasonable, and definitely recommend this school to anyone one looking for affordable and great music lessons. Thank you Mr. Rodsuwan!" Aja Green
"I am an adult student with ZERO musical background. It is a pleasure to drive 1 hour to Violin lessons. Instructors are EXPERIENCED & PASSIONATE about teaching. (Mr. Rod is AMAZING!!). Learned to read music notes within 4 clases. Teaching techniques make it very easy & enjoyable to learn. Instructor provides feedback after every lesson. HIGHLY recommend Allegro Music School. (If I could give 100 star review...well deserved)" Miriam Reynoso
"My son started playing violin 3 months ago and I am so impressed with his level of achievement in such a short period of time. His teacher, Mr. Rodsuwan, is so patient with him and his attention to detail is amazing! Mr. Rodsuwan teaches kids in a way that they can relate and understand and get them engaged! Last week, my son and I met the Orchestra Director at his new middle school and she was so impressed with his form, technique, musicality and how easy it is for him to read notes! I initially signed my son up for Beginning Orchestra but after the interview, the Director told us that she is moving him up to Advanced Orchestra! My son was ecstatic! This is a testament to how awesome this school is! So glad we found Allegro Violin School! Thank you, Mr. Rodsuwan, for such a great inspiration to my son and for helping him foster his love for violin!" Chloe Samuels
"My daughter has been learning the violin with Mr Rod for just over two months now and I couldn't be more pleased with her progress in such a short time. Mr Rod is highly experienced and it shows through his instruction. My daughter recently had an audition with her school orchestra instructor and the instructor was VERY impressed with her abilities to play , her posture and form in such a short time with private lessons with Mr. Rod at Allegro. Thank you Mr Rod, I made the right decision in choosing your school for my daughter Brandi. Robert " Rob Pabon
"I love having classes here! My teacher Ms. Fei is so nice and patient with every single one of my questions and I have improved a lot with her teaching. Mr. Rod (owner) also makes you feel very welcome and will be very happy with your progress. Best place to have violin lessons! " Vanessa Lima
"My 3 year old granddaughter loves learning the positions, movements, and rhythm the teacher Mr. Rod, models and directs during each lesson. She understands and is excited to performs as he encourages her to proceed with focus of the lesson. Absolutely great!" Gloria Marubio
"We are so grateful to have found Allegro! All of the teachers here are great with my 7 year old. He started violin last year and Mr. Rod has done so much to boost his confidence. If you're looking for violin/guitar/piano lessons, this school is top of the notch!" Amber Roberts
"If you want the best in violin training you will want to pursue lessons with Mr. Rodsuwan. I drive an hour to lessons for my daughter, and have for 7 years now, because of the quality of the music education he provides. Violin seeps from his every pore. He is a very dedicated instructor and uses a wide variety of methods to carefully develop his students abilities. He is always positive, challenging, affirming, and creative. My daughter has learned so much from him and I am very grateful to have her under the guidance of such a gifted teacher." Kay Arnold
"If you are serious about learning violin, Mr. Rodsuwan is who you want as your teacher. He's extremely knowledgeable, extremely passionate and a great man. He makes sure to answer any questions you have and personalized his teachings for you. One of the first things he will ask is "What is your goal?" From that point on, he works with you to reach your goal (granted you do your part). In a nutshell, I highly recommend." Eric Wilbourn